Venture off the more beaten path of Italy and discover the beautiful, serene island of Sardinia. While Tuscany and Rome attract thousands of tourists each year, the lesser known gem of Italy – Sardinia – offers its own unique experience, complete with spectacular beaches and ancient historical sites. Traveling to this Italian paradise need not be intimidating, as we will explore how to visit Sardinia with ease.
From finding the right flights and arranging transport, to deciding where to stay and the best activities in Sardinia, planning a vacation here is made easy with this guide. Found off the coast of Italy, Sardinia is an autonomous region and one of the largest islands of the Mediterranean Sea. This means that while still being part of the Italian culture, it has also has many distinct characteristics of its own that make visiting it even more exciting.
For those eager to explore the hidden island of Sardinia, the challenge may be how to get there, followed by how to get around once you've arrived. Fear not! This guide will provide all the answers, from the most practical to the fun and creative. Read on to discover how to visit Sardinia with ease and make the most of your trip.
Getting to Sardinia – How to Reach Island's Shores of Glamour
The island is a summer paradise with pristine nature that takes your breath away. Nestled in the central Mediterranean, it is surrounded by crystal clear waters in every direction.
To the north, the Bocche di Bonifacio channel separates it from Corsica, bathing its shores with the Tyrrhenian Sea. To the south, the Sardinia Channel borders the African continent, while its western flank faces the Sardinian Sea.
The island comprises a main island along with smaller specks like the Asinara, La Maddalena Archipelago, San Pietro Island and Sant'Antioco Island, along with many islets.
Untouched wilderness and breathtaking beauty epitomize this island haven. Secluded coves, beaches and shorelines offer solace amidst Mediterranean greens and cliffs. Opportunities for hiking, cycling, boating and adventure abound.
Historic towns, ancient sites and cultural gems are nestled between the sea and mountains. A summer escape here soothes the soul and awakens the senses.
Numerous experiences await on this picturesque Mediterranean paradise. From swimming in crystal-clear waters to exploring rugged hills, every moment inspires, friendly townspeople to dazzling nightlife, there are endless ways to revel in the natural wonder and relaxed vibe.
A pristine escape surrounded by the azure sea, this unspoiled island paradise rejuvenates and inspires like no other place. With stunning natural beauty and vibrant culture, it is a slice of heaven on earth.

Sardinia's Beauty with Easy Access: Flights and Ferries Connect the Island to the World
The stunning beaches, historical sites and scenic landscapes of Sardinia attract tourists from all over the world. As an island in the Mediterranean Sea, Sardinia remains well connected to mainland Italy and other global destinations by flights and ferries, making it accessible to bold travelers from any continent. Here are some tips to help you plan your journey to Sardinia.
Flights: The main airports in Sardinia are located at Olbia (OLB) and Alghero (AHO) airports serving the north, and Cagliari (CAP) airport serving the south. Many airlines offer direct or one-stop flights from major Italian cities like Rome and Milan. There are daily domestic flights connecting the main island airports with Rome and Milan 3-4 times a day. Some airlines also provide seasonal flights to Sardinia from other European cities. For long-haul flights, you may need one or more stops. Budget airlines like EasyJet, Ryanair and Vueling can help decrease airfare costs.
Ferries: Multiple ferry companies connect Sardinia to Italy and nearby islands. Services run from Sardinian ports to the main Italy (Civitavecchia, Livorno, Genoa, Naples, Palermo, Piombino), Barcelona in Spain, and France (Toulon, Nice, Marseilles and Corsica). Crossing by ferry is a scenic way to reach Sardinia, especially for those traveling from Spain or France. Ferries from the mainland to Sardinia take around 7-8 hours with departures in the morning or evening. On fully serviced ferries, you can choose from armchairs to comfortable cabins. Tourists arriving with a vehicle have no choice but to take the ferry, though they can rent a car once on the island. Ferry routes between Sardinia and Italy operate year-round with more frequent departures in summer, from June to September. If you choose our multi-destination trip, ferry tickets to Sardinian ports can be included in the itinerary.
Traveling to Sardinia in Style: Private Flights or Yacht Charters
For a truly luxurious trip to Sardinia, skip the commercial flights and arrive by private jet, helicopter or luxury cruise. While public air travel gets you to the island, a private charter will ensure a seamless, VIP experience from start to finish.
Some of the most popular luxury ground and air options for traveling to Sardinia:
Private jet charter: Renting a private jet is one of the ultimate luxury options and especially popular for direct flights into Sardinia's Costa Smeralda Airport. Private jets offer a seamless, customized trip with lie-flat seats, premium amenities and flexible scheduling. You can choose from light, mid-size or large cabin jets that seat 4 to 16 passengers. Rent the entire jet for your group or charter a fractional ownership jet. Enjoy in-flight dining, premium drinks, luxurious seats with ample space and panoramic windows.
Helicopter – For a thrilling introduction to Sardinia, arrive by helicopter. You can charter helicopters that seat 3 to 5 passengers for a scenic 1 to 2 hour flight from mainland Italy. Land at secluded beaches, golf courses or winery grounds for a grand entrance. Helicopter tours of the island are also available for an aerial perspective of Sardinia's beauty.
First or business class flights: Flying first class or business class on airlines like American airlines, Emirates, Etihad, Qatar or ITA provides high-end service, lie-flat seats, gourmet meals and premium drinks – a luxurious way to reach Sardinia with one or more stops.
Wherever your private flight or chopper touches down, a luxury vehicle will be on hand to whisk you to your secluded villa, resort or yacht. Leave the crowds behind and immerse yourself in Sardinia's natural splendor and Mediterranean chic. Private air travel or cruise provide the perfect backdrop for exploring Sardinia at your own pace with loved ones or an intimate group.
Private air travel or cruise to Sardinia delivers the following unparalleled benefits:
Exclusivity – Ride alone or with close companions; limited capacity per flight  or charter
Convenience – Land and take off from smaller airports and ports; private transfers on arrival or directly to your accommodation
Adventure – Thrilling helicopter tours and aerial views of the island
Purity – Escape from crowds; immerse in seclusion and tranquility
Luxury – Premium aircraft or boat, gourmet cuisine, premium drinks and high quality service
Visit Sardinia in unsurpassed style and experience the trip of a lifetime. Contact us today for a private jet charter or helicopter tour quote and itinerary ideas. We look forward to helping you discover the essence of Sardinia!
How to connect a trip to Sardinia with other regions or countries in Europe
To combine your Sardinia vacation with additional destinations, there are many options for extended tours and multi-stop trips in Italy or Europe. Once you arrive in Sardinia, you can utilize it as a hub to explore nearby Tuscan wine country, Corsica, or the Italian mainland. European carriers offer comfortable flights between Sardinia's airports and major cities across Italy like Rome, Florence, Venice and Milan.
For a wider European trip, connect through major air hubs in cities like Barcelona, Paris, Amsterdam or London. These cities have extensive flight networks and are only 1-2 hours from Sardinia by plane. Spend time experiencing the culture, cuisine and sights of Spanish Catalonia, the French Riviera, Holland or Britain before returning home. Designed itineraries handle details so you can relax while experiencing more of Europe. There are endless possibilities for adventure when combining Sardinia with other stellar destinations in Italy or Europe.
Savvy travelers can craft an itinerary connecting Sardinia with other dazzling Italian regions like Tuscany or Umbria, or neighboring European countries like France and Spain. Multi-week tours seduce with an elegant progression between private villas, boutique hotels, vineyards, olive groves, and coastlines. Between lavish meals, world-class wines, indulgent spas, and personal shoppers curating unique finds, every experience contributes to an unparalleled luxury escape. For discerning tourists craving an idyllic Mediterranean journeys and impeccable accommodation, service, and style, Sardinia delivers. With personalized schedules, costs and itinerary options, we can create the perfect multi-stop journey filled with amazing scenery, culture, food and newfound memories.
For luxury travelers, here are some recommendations for combining Sardinia with high-end destinations:
Tuscany – No trip to Italy is complete without exploring Tuscany's stunning coastline, medieval towns, world-class wine regions and Tuscan countryside. Indulge at a 5-star villa retreat, dine under the Tuscan sun at a Michelin-starred restaurant, or tour historic wineries.
Corsica – Between the stunning beaches and Mediterranean coastline lies hidden gems, secluded resorts and seawater pools. Explore Ajaccio, Bonifacio and Calvi in the most popular itinerary combining two most enigmatic twin islands.
French Riviera – The glamour of Cannes, glitzy Monaco and lavish Saint-Tropez awaits. Experience the chic beach clubs, yacht marinas, designer boutiques and Mediterranean allure. Stop in Nice for a taste of the lavender countryside too.
Amalfi Coast – Italy's Amalfi Coast boastspicturesque coastline, pastel-hued villages, luxury hotels and spas with seaside pool terraces. Positano is the most iconic town, perfect for people watching, yachting and macaroni lunches.
Northern Italy – Venice, Milan and Lake Como offer an enticing mix of historical splendor, artisanal cuisine, shopping and opera. Stay in a Venetian palazzo, see Da Vinci's The Last Supper in Milan or tour Villa d'Este's landscaped grounds.
Spain – Begin your journey by exploring the lively cities of Madrid and Barcelona betwenn Sardinia trips. Stroll through the historic districts, admire the work of the famed architect Antoni Gaudi, and partake in the delectable tapas and wines Spain is renowned for.
Yacht Charter – Nothing says wealth and luxury like chartering your own yacht. Cruising the Mediterranean from Sardinia provides the perfect opportunity to island hop in style. Visit hidden coves, swim from deck into azure waters and dine under twinkling stars.
Think multi-generational families, ultra-luxury resort brands, renowned chefs, prestigious wine lists, private beaches, cultural events and lavish after-dark entertainment. Craft a glamorous itinerary tailored to your tastes for an extravagant escape in Europe's most style-conscious destinations.
Getting Around Sardinia
Once in Sardinia, transportation options are plentiful, ranging from private transfers and car rentals to luxury options such as yacht charters or helicopter tours.  A road system extends across the island, though some routes may be winding. Microscopic stories, history and beaches can be discovered along scenic byways.
Public transportation: A lot of Sardinia is interconnected by an broad network of bus routes. However the bus timetables can be unclear, and a lot of bus operators have reduced hours and routes on Sundays, which might pose a problem or be inconvenient to some commuters.
Trains link the island's major hubs like Cagliari, Sassari, Olbia and Oristano.
Private transfers: For your best stay choose the comfort and efficiency of a private transport service with driver. Always at your disposal, tansfer accompanies you to the main points of interest, pampering you with the comforts of a luxury car. Take advantage of our private transport service to and from Sardinia airports. We take care of the reception and logistics, offering a personalized service and ensuring comfort and maximum efficiency.
Trust the experience of our multilingual guides to discover the most suggestive and spectacular places on the island. Cultural and naturalistic excursions and personalized itineraries based on your preferences.
Luxury bus or minibus transfer: For larger groups, a chauffeured bus, minibus or people mover with premium fixtures and amenities provides a luxurious private transfer directly to your destination in Sardinia, especially from nearby airports on the Italian mainland.
Car rental: Renting a car allows you to explore Sardinia at your own pace, but that's not to say there aren't any downsides. For instance, car rental is quite expensive, but you can find them at each of the island's three main airports. As well as this fuel is costly in Italy, and finding a parking spot can be difficult too. On the other hand, a car allows you freedom to get where you want to when you choose to, although check you have a valid driver's license and an international driving permit. Tourists need to remember speed limits are displayed in kilometers. They also must keep your eyes peeled for motor scooters, which are notorious for weaving in and out of traffic.
High-end sports car rental: Renting a luxury vehicle like a Lamborghini, Ferrari, Porsche, BMW, Mercedes or Maserati allows you to drive at your own pace on scenic roads between airports and your Sardinian villa or hotel. This works well for direct flights into nearby airports on the Italian mainland.
We are pleased to offer a personalized, premium car rental service with delivery and pick-up options. We provide a curated selection of high-end luxury vehicles that we meticulously detail and prepare for each rental to ensure the utmost quality and guests' satisfaction. In addition to standard airport and city center pick-up and drop-off locations, we also offer the unique possibility to have the rental vehicle delivered directly to your accommodation address. This allows for an even more seamless and hassle-free rental experience.
Sardinia provides numerous options to get around comfortably and luxuriously, from private transfers to high-end sports cars and guided tours. Carefully consider costs, convenience and independence to choose a mode of transport suiting your preferences for Island enjoyment.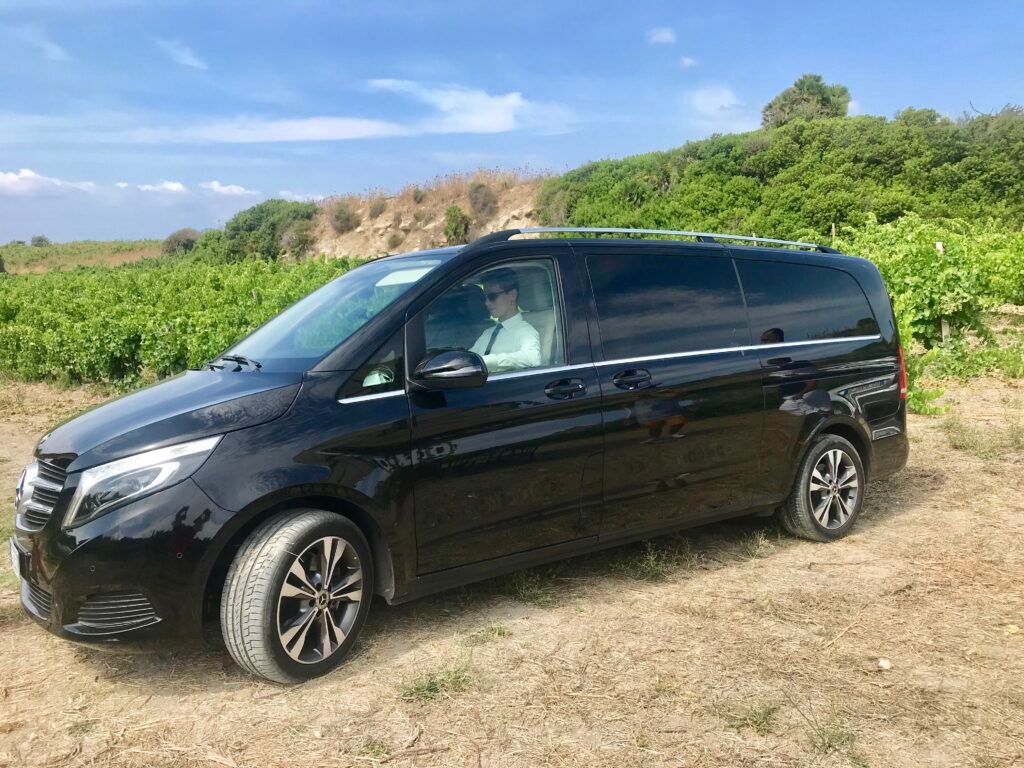 Best Places to Visit in Sardinia from South to North
Sardinia offers a variety of attractions, from historic towns built by the Genovese and Aragonese dynasties along the coasts and hills of the northwest, to the luxury beach resorts and pristine beaches of Costa Smeralda in the northeast. The inland mountains of central Sardinia contain typical hilltop villages and wildlife, while the southern coast boasts the capital city and long, sandy beaches.
The south and north of Sardinia differ greatly. The south is characterized by wide, flatlands used for grazing sheep and growing wheat and citrus fruits. South Sardinia is good mostly for Mediterranean beach vacations. The flat landscape, long beaches, and hot weather make it ideal for sunbathing and swimming. However, there are fewer attractions and activities beyond the beaches. The north has a more rugged landscape of steep granite mountains, wooded hills and valleys used for crops like olives and grapes. North Sardinia is characterized by luxury tourism, with upscale resorts like Costa Smeralda attracting international visitors. The diverse landscape offers mountains and green hills, breathtaking bays and pristine beaches, vineyards and historical towns for sightseeing and activities.
The northern part of Sardinia faces the Mediterranean Sea and has historically traded and interacted more with Europe, resulting in more cultural diversity and historical towns influenced by the Genovese, Pisans, and Aragonese. The southern coast, facing Africa, developed in more isolation with a distinct culture and architecture.
The mountainous interior creates a natural divide between the regions and driving from one end of the island to the other takes around 3 to 4 hours.
Our tours around the island provide the opportunity to see the main attractions and experience the local culture with expert guides. You'll be treated to stunning landscapes, breathtaking panoramas, and unique insights from those who know Sardinia best – allowing you to truly discover this beautiful island.
Exploring Cagliari, the Capital of Sardinia
Cagliari, the capital and largest city of Sardinia, has an incredible mix of history, architecture, beaches, and natural beauty. The old walled district of Castello, built on a hill overlooking the city and the sea, is a must-see. Marvel at the Gothic Cathedral and stroll the bastions for stunning views of the coast.
The Cittadella dei Musei museum quarter hosts several charming museums showcasing the culture and history of Sardinia. Cagliari Marina has miles of waterfront promenades perfect for a leisurely stroll past cafes, shops, and restaurants.
Spend time on Cagliari's breathtaking beaches. Poetto Beach, stretching for miles, is one of the most popular beaches in Italy, with soft sand, shallow waters, and seaside activities galore.
Further afield, Tuerredda Beach attracts surfers and sunbathers with crystal clear waters, white sand dunes, and panoramic views. Escape into nature just outside the city and explore rugged cliffs, wooded hills, and dramatic coastline dotted with secluded coves.
The capital of Sardinia packs in a wealth of history, culture and natural beauty into a compact and easily navigable city. Cagliari invites exploration at every turn, offering the perfect balance of urban conveniences and gorgeous seaside escapes.
Pula: Where the Phoenician Ruins Meet the Golden Sands of Sardinia
Discover a hidden treasure along the stunning southern Sardinian coastline that boasts serene beaches and breathtaking views. This location is perfect for year-round visits, offering endless opportunities to sunbathe and swim during the summer months, while autumn and winter offer a more romantic ambiance. One must-see destination is Capo Pula, renowned for its Phoenician town ruins and sandy beaches with golden dunes. The area is a popular spot for beach enthusiasts seeking remarkable views and a tranquil escape.

Sant'Antioco and San Pietro Islands – Fishing Traditions Meet Ancient Ruins
Sant'Antioco is the second largest island off the Sardinian coast. It lies in the Gulf of Palmas in the southwest corner of the region. The town is known for its archaeological sites like the megalithic menhir Sa Mongia and Su Para, the fairy caves or domus de janas and the nuragic tombs of Su Niu and Su Crobu. The island is also home to beautiful beaches like Maladroxia and Co'e Quaddus, picturesque coves like Cala Sapone and Cala Lunga, and diving spots around the islands of Vacca and Toro with their crystal clear waters. The island has historically been known for its fishing and navigation traditions, passed down through generations of fishermen families. The local cuisine make heavy use of fish and seafood caught locally, including octopus, squid, mussels, lobster and sea urchin. Traditional dishes also include homemade pasta and plentiful use of olive oil, garlic, tomatoes and herbs.
San Pietro Island has a rich history dating back to Phoenician, Roman and Nuragic times. According to legend, Saint Peter visited the island in 46 AD, giving it its name. In the 18th century, the then-uninhabited San Pietro was settled by migrants from the Republic of Genoa's colony at Tabarka in Tunisia after it had fallen to the Bey. To this day, most residents speak a Genoese dialect called Tabarchino , which is also spoken in the neighboring Sant'Antioco island, particularly in Calasetta. The fishing and culinary traditions are similar to those of Sant'Antioco.

Sulcis and Iglesias:  Mines, Caves and Cliffs
The Sulcis region in the southwestern part of Sardinia island is an area full of natural beauty, history, and rich culture. The province of Carbonia-Iglesias, also known as Sulcis, comprises some of the most beautiful sites in Sardinia.
The historic town of Iglesias, with a population of around 28,000, is the capital of the Sulcis area. The compact medieval center is filled with churches, Romanesque buildings and narrow pedestrian streets. Iglesias Cathedral features a series of 15th century mural paintings depicting the legend of Saint Vincent, while the Archaeological Museum houses artifacts from ancient Sardinian civilizations. The alleys come alive in the evening with cafes, bars and restaurants serving local specialties.
The ancient mines and caves in the Sulcis area are another main attraction. The fortified village of Villa di Chiesa and the Nuraghi archaeological sites built by the Nuragic people date back thousands of years.
The stunning coastline with white beaches like Porto Scuso, Is Arenas and Porto Pino offers crystal clear waters for swimming, kayaking and other watersports. The beaches along the Golfo di Palmas provide views of the Isola di San Pietro island.
Oristano: Ancient Sites, Lagoons and Culinary Delights
Oristano province lies on the west coast of Sardinia and contains many historic sites and coastal villages. The provincial capital, Oristano, is a charming city with neoclassical architecture and art nouveau buildings.
The Cathedral of Santa Maria Assunta dominates Oristano's skyline with its massive dome and octagonal bell tower. The interior features a mix of architectural styles and houses important works of art. Archeological Antiquarium Arborense in Oristano has one of the most important collections of Punic and Roman artifacts in Sardinia. The historic center of the city, Portixeddu, shows Oristano's colorful history with its picturesque pedestrian streets, piazzas, shops, and restaurants.
On the coast lies the medieval village of Tharros, an ancient Phoenician city. Little remains today except archaeological ruins, but walking through the excavated streets and alleyways offers a glimpse into life in this coastal Carthaginian settlement.
The town of Cabras, located between Oristano and Tharros, is known for its lagoons and saline ponds. The wonderful wetlands attract many migratory birds and the pink flamingos. Cabras is home to the fascinating statues known as the Giants of Monte Prama.
Oristano province is famous for bottarga, cured roe considered a delicacy. Bottarga from the grey mullet and seabream is particularly prized.
The province is also known for Vernaccia di Oristano DOCG, a dry white wine made from the Vernaccia grape. It has been produced since the 14th century and has a characteristic almond aroma and slight bitterness. Vernaccia pairs well with seafood, serves as an aperitif, and is popular as a dessert wine.
Oristano produces mussels, clams, pecorino cheese, pigiotto sausage, Nuragus wine, and Vermentino di Sardegna wine. The nearby Is Aruttas archaeological park features Bronze Age nuraghi structures.
Barbagia – The True Heart of Sardinia
Barbagia, the rural heart of Sardinia, is a vast territory occupying the slopes of the Gennargentu mountain range in the center of the island and surrounding smaller hills. The name "Barbagia" refers to the Sardinians who resisted conquests by the Carthaginians and Romans and took refuge here.
The area consists of historical regions, each with their own charms. Picturesque villages like Gavoi feature granite houses, narrow lanes, vine-covered patios and pergolas. It is the birthplace of the famous Fiore Sardo cheese.
Orgosolo's streets come alive through colorful murals painted on walls that tell stories of life,culture and political causes.
Barbagia is famous for cannonau wine. Vineyards in towns like Mamoiada, Oliena and Dorgali are internationally renowned for producing this grape variety and wine.
The Gulf of Orosei and Cala Gonone village by the sea are world famous for the stunning Cala Luna bay. Visitors can enjoy beautiful beaches, crystal clear waters and dramatic cliffside views.
The whole area offers a glimpse into Sardinia's rich history, culture and traditions against a backdrop of stunning landscape and scenery. Barbagia invites travelers to slow down and experience the true heart and soul of the island.
Bosa: A River Town Rich in History, Crafts and Sweet Wine
Bosa is a charming town nestled in a valley along the Temo River in northwest Sardinia. Its picturesque setting, with colorful buildings cascading down the riverbanks and narrow cobbled lanes winding through the historic center, gives it a magical appeal.
The town is dominated by the hilltop Castello Malaspina castle, built in the 12th century, which watches over Bosa from above. Its stone walls and towers are a prominent feature of the skyline.
Bosa's economy has historically centered around its river port and the town is famous for its artisans who craft delicate filigree and coral jewelry, as well as the Bosa filet lace produced by local women.
Graceful bridges arc over the Temo, connecting the different neighborhoods, and palm trees line the riverbanks adding a tropical feel. The tempo of life in Bosa is relaxed and the town has preserved its traditions and heritage while welcoming visitors who come to enjoy its natural beauty and historical charm.
Bosa also produces the Malvasia di Bosa wine, made from the Malvasia grape variety. The wine has been produced in the area since the Middle Ages and has a distinctive sweet and aromatic flavor profile. Malvasia di Bosa is often used in the production of dessert wines and fortified wines, making it a popular souvenir for visitors. The Castle Malaspina itself has underground caves that were once used to age the Malvasia di Bosa wine.
Alghero, pearl of the Riviera del Corallo
Alghero, known as the "Pearl of the Riviera del Corallo", is a charming little town on the northwest coast of Sardinia with a Spanish flavor. The "Riviera of Coral", one of the most beautiful stretches of coastline in the Mediterranean, is famous for the rare pink coral found in nearby waters.
Be sure to check out the Gothic Cathedral of Santa Maria and Palazzo Guillot, an elegant palace housing the City Museum. Wander the cobblestone streets lined with cafes, shops, and bars serving tasty Sardinian and Catalan dishes.
After a day of sightseeing, relax on Spiaggia del Lido, one of the long sandy beaches near Alghero on the "Coral Riviera". The town is also a launchpad for exploring the impressive Caves of Neptune, an extensive network of stalactite-filled caverns located a short drive away. You can hike down to the caves or take boat tours that depart from Alghero's harbor.
Alghero offers an authentic taste of Sardinian culture mixed with Catalan and Spanish influences, making it a unique and charming destination on the spectacular "Riviera del Corallo". The winding alleyways, historic landmarks, beaches, and rare pink coral found in nearby waters will give you plenty to see and do on a getaway to this laidback coastal town on one of Italy's most scenic stretches of coastline.
Castelsardo: A Medieval Gem Overlooking the Asinara Gulf
Perched on a promontory with dazzling views of the Asinara Gulf sits the enchanting 12th century medieval town of Castelsardo. Time seems to stand still here, with narrow winding streets climbing the hill up to the ancient Doria castle at the top, transporting you back centuries. The panoramic views from the chapel atop are breathtaking, overlooking the sea, the island of Asinara, and even Corsica on a clear day.
Castelsardo is renowned for its traditional Sardinian handicrafts and distinctive handmade wickerwork baskets.
Not far from Castelsardo lies the curious Roccia dell'Elefante – a rock formation that resembles an elephant shape carved by nature. The rock formation dates back about 5000 years, from the prenuragic period where prehistoric "domus de janas" burial chambers were constructed.
Costa Smeralda – The Emerald Coast for Millionaires
The exclusive Costa Smeralda coast on Sardinia is a mecca for celebrities, the ultra-wealthy, and high-end travelers. This legendary stretch of the Emerald Coast is known for its luxury villages, iconic hotels, and glamorous nightlife.
The natural beauty of the area inspired world-famous architects and designers to create resorts and residences in distinctive Mediterranean style using local materials and traditional architecture. Villages like Porto Cervo have become hubs for celebrity sightings and yacht-spotting, with glitzy waterfront restaurants, luxury boutiques, and mega yachts docked in the marina.
The coast boasts idyllic white sand beaches lined with beach clubs catering to the elite. Lido di Porto Cervo offers chic sun loungers, umbrella service, and beachside dining. Romazzino Beach is known for windsurfing and kitesurfing, while Spiaggia del Principe offers stunning panoramic views.
Nightlife reaches its peak in the summer months at clubs like Billionaire, Ritual, Sotto Vento, Phi Beach, and others. One of the most exclusive enclaves is Poltu Quatu, nestled in a natural granite fjord. The luxury village and hotel here were designed by Costa Smeralda's preeminent architect, Jean Claude Lesuiss, and exemplify the area's exceptional attention to design and style.
From Porto Cervo's ritzy Piazzetta to the hidden bays of Poltu Quatu and Baja Sardinia, the Costa Smeralda coast offers an unparalleled assemblage of natural beauty, architectural mastery, high-end opulence, andpristine beaches. It remains one of the most sought-after destinations for the wealthy and discerning traveler.
The Islands of La Maddalena: From Ancient Port Towns to Garibaldi's Refuge
The main inhabited island in the La Maddalena archipelago is La Maddalena itself, home to a beautiful Mediterranean town of the same name. It is separated from the mainland by a strait crossed by a 15-minute ferry ride from Palau. Here you can enjoy the unique atmosphere and spirit of a small Italian port town, with narrow streets, typical restaurants and bars.
In the past, La Maddalena was home to the main bases of the Italian navy, US forces and NATO, and many military officers became so enamored with the beauty and lifestyle of the island that after the military base closed, they decided to stay permanently, making La Maddalena one of Sardinia's most international towns.
Another island in the archipelago, Caprera, became the home and final refuge of the legendary Italian general and hero Giuseppe Garibaldi, who loved Sardinia and spent the last years of his life in his house on Caprera island, which is now a museum dedicated to Garibaldi. Caprera offers visitors a chance to experience Garibaldi's simple lifestyle and embrace of nature in the very places he lived.
Your bespoke Sardinia vacation is only a friendly conversation away
Tell us how we can make your dreams of luxury Mediterranean travel come true